April session of JEE Main exam also postponed 2021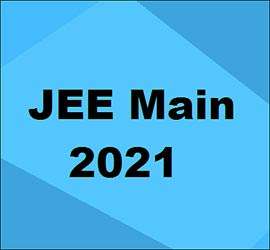 The April 2021 session of the Joint Entrance Examination (JEE) has been postponed. Union Minister Ramesh Pokhriyal Nishank on Sunday said that the entrance examination for engineering to be held between April 8 and 20 has been postponed for JEE-Mains. Announcing the postponement of the exams, Education Minister Nishank said, "The security of our students and their academic careers is the main concern of the Ministry of Education and me." New dates will be announced soon. Students should be given 15 days between the dates and the announcement of the exam, the education ministry said.
Jee Main Exam news 2021
Only Paper 1 examination was to be held in April session. Only BE and BTech are admitted in engineering colleges. On the other hand, the NTA's official order said that the decision to postpone the JEE-Men's April session was taken in view of the current situation regarding Kovid-12 and the instruction and expertise of the examinees and examination officials. The revised dates will be announced later and 15 days before the exam date, the order said.
Given the current situation, the JEE Main examination has been postponed,
An important decision of the Union Education Minister The National Testing Agency (NTA) has postponed the April session of JEE (Main) -2021 amid rising cases of corona virus. The National Testing Agency (NTA) has said that the date of the new test will be announced at least 15 days before the test. The JEE (Main) 2021 exam, scheduled for April 27, 28 and 30, has been postponed, the National Testing Agency reported. Examinations have been postponed due to Corona's current condition. JEE (Main) 2021 February and March exams have already taken place. In view of Corona's second wave, students and parents have long been demanding the postponement of the exam. Big decision / Big decision of Kejriwal government regarding people returning from Kumbh This time the National Testing Agency has decided to conduct the JEE Main Exam 2021 in 4 stages. Out of which examinations for February and March session have been taken earlier. The JEE Main exam scheduled for April 27, 28 and 30 has been postponed. The National Testing Agency has not made any announcement regarding the fourth phase of the JEE Main exam to be held from 24 May 2021 to 28 May 2021.
📢 Announcement
Given the current #covid19 situation, I have advised @DG_NTA to postpone the JEE (Main) – 2021 April Session.

I would like to reiterate that safety of our students & their academic career are @EduMinOfIndia's and my prime concerns right now. pic.twitter.com/Pe3qC2hy8T

— Dr. Ramesh Pokhriyal Nishank (@DrRPNishank) April 18, 2021